12 Axis Servo Hydraulic High Precision Press
Gasbarre Products, Inc.
Gasbarre Products, Inc. is located in Dubois, PA and specializes in the manufacture of mechanical and hydraulic presses. The Hydraulic press line is new for Gasbarre and requires high speed and high precision motion with seamless transition to force control. To achieve both speed and precision, Gasbarre Products uses the Omega Valve system developed by Dave Hamby of the RG-Group. The Omega Valve uses 3 servo hydraulic elements per one axis of motion. This system requires that one linear transducer control 3 independent axes of motion. The Delta Tau UMAC is the only product on the market that can control 3 servo hydraulic valves for one axis of motion with seamless transition to force control. Furthermore, with the motion program and PLC support offered by Delta Tau, no other controller is necessary resulting in a clean and elegant control solution.
Gasbarre and Dave Hamby turned to Tisfoon Ulterior Systems of Raleigh North Carolina for custom software and control of the new hydraulic press line. Tisfoon is a distributor of Delta Tau products and specializes in the development of custom software for Industrial Automation. Tisfoon used its HMI builder program, locoMotion, to write the human machine interface of the press line. LocoMotion has built in support for Turbo PMAC and supports runtime assignment of P,I and M variables. The HMI runs on the fast and powerful Tisfoon PC/104 computer. The Tisfoon PC/104 computer has 2 USB ports, 2 serial ports, and 1 Ethernet connector with a powerful PIII 700 MHz CPU. Tisfoon developed the motion program and plc code using its Delta Tau Compiler product. The Delta Tau Compiler supports any text editor and both central and included symbols resulting in highly readable and maintainable code. UMAC's built in power and capability supported the Omega Valve hydraulic servo system and seamless transition to force control. In fact, the UMAC alone controls all sequencing and motion control of the hydraulic press resulting in a highly integrated and elegant control system.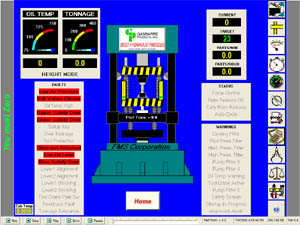 Gasbarre's hydraulic press line ranges from 2 levels to 6 levels of independent punches with a tonnage variance of 20 to 750 tons. The UMAC's unique scalable and extensible architecture allows for the entire product line to use the same control system. The result: speeds up to 10 inches per second with a repeatability of 0.2 thousandths of an inch. UMAC's 16 bit Analog to digital conversion affords the load cell force feedback system an accuracy of 1 ton in a 750 ton press. The bottom line is the presses ability to produce accurate parts with repeatability.
Features of Delta Tau products used in this application:
UMAC's flexibility in assignment of any feedback to any axis of motion.
UMAC's I/O and Axis Scalability
UMAC's 16 bit ADC.
Automatic Motion blending.
Integrated high speed and multi-threaded PLC support.
Seamless axis following for easy control of one plate with two independent cylinders.
UMAC's built in support for integration with a PC/104 computer.
UMAC's ability to seamlessly communicate to a Windows host regardless of the host operating system.
Results:
Speeds up to 10 inches per second with an accuracy of 0.2 thousandths of an inch.
Force control less than 1 ton in a 750 ton press.
More precise cuts to 1/64 of an inch due to "S" curve acceleration; the lumber could be positioned at a faster rate without slipping in the nip rolls.
A flexible and scalable control solution that supports the entire product line.
High tolerance tooling attached to platens has .0005" clearance. Any "twisting" of the axes attached to the rigid plate can result in tool breakage. Parallelism must be maintained dynamically as well as static through entire range of motion.
Not shown – Closed loop feed shuttle axis is geared to the Die Table for precise powder filling to accomplish repeatable part weight. Three proportional pressure axes for auxiliary and safety functions.
©1994-2023 TUS, Inc. 3434 Edwards Mill Rd. Suite 112-326 Raleigh, NC 27612 USA